Year 133 - December 2021
...to men on whom His favour rests
Fr. Livio Tonello, director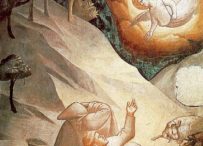 Christmas has always been for us the feast that families celebrate together: Christmas is the feast of man and of his family. Jesus came into the world into a family like many others over the centuries. Christmas is the feast of children, of every child that is in every adult, that is why it evokes childhood memories.
Anyhow Christmas is not only the celebration to gather with family. We must restore the message of the Christmas Gospel that invites us to rediscover and celebrate God's love of which greatest expression is the gift of his Son for the salvation of mankind. It was because of love, the love of the Father for us that he gave his only son for our redemption, for everybody's redemption the good and the bad. Not only for those who have "good will" and the intention to do good but for everybody!
Because God loves everyone, the saints and the sinners, the good and the bad. Here again the touching message of the incarnation: a truth that disturbs us, that makes us feel uncomfortable and that maybe makes us angry because God seems to be too good. Some people think that the pandemic is a punishment of the All Mighty.
In number 34 of his last encyclical letter "all brothers" Pope Francis writes: "I do not want to speak of divine retribution. The world is itself crying out in rebellion. "How could God stop loving his creatures? Rather, there is a deep bond that unites people with the environment that solicits responsible relationships.
God loves humanity and all creation that display his design. God loves everyone in the whole world and he gives his grace also to the ones who feel far from him: "Man may be merciful to his fellow man, but the Lord's mercy reaches all flesh" (Sirach 18,12). With these profound words the book of Sirach underlines that every one good or bad, every feral or gentle animal is a part of this flesh, including the virus. We must all walk along this path so as not to marginalise anybody.
The Pope admonishes: "to believe in God and to adore God is not enough to ensure that we are actually living in a way pleasing to God" (all brothers 74). Christmas suggests that we meditate on these thoughts and it confirms their strength. The mystery of Bethlehem gives us a clear message: the son on God was not born in Jerusalem, the capital, he did not choose the temple to be adored, he did not issue the first cry in a palace.
The poverty of a little village became the symbol of a precise choice: Saint John Crysostom writes these relevant words: "Would you honour the body of Christ? Do not despise his nakedness; do not honour him here in church clothed in silk vestments and then pass him by unclothed and frozen outside". Here there is God, this Christmas, so different from the ones of the last years.
By living a new fragility we let ourselves be loved by our Lord who loves all mankind. But we can only treasure that love by welcoming it. It is our contribution that must be given if we want his love to give us light and warmth.