Year 135 - March-April 2023
Fail better
Elide Siviero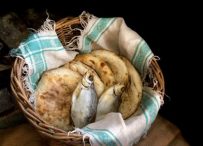 I have found out that on 13 October 2021 in Finland they celebrated the National day for failure. How can we imagine to devote a day to celebrating our imperfections and our bungles? The National day for failure originated in Finland where companies suggest to put in your résumé also the failures of your life and what you did not succeed to do.
In fact to make mistakes is a normal and healthy part of life and this helps us to understand and accept our limitations, it underlines that we have tried to do something and that we go ahead despite everything. Nelson Mandela said: "I never loose; or I gain or I learn!". We can learn from our bungles and turn them into wins. Boris Pasternak wrote: "I do not love perfect people who have never failed and have never stumbled. Their virtue is dull. They have not understood the beauty of life"... (continue)
---
Dear reader, thank you for choosing this article.
Want to read more? Ask for a free copy of "The Saint of Miracles"