Year 135 - January-February 2023
This happiness that is beatitude
Fr. Livio Tonello, director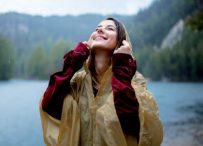 At the end of the year and at the beginning of the new one we exchange greetings. We all wish happiness for ourselves and for the others: "Happy New Year; I wish you happiness and all what you deserve". Certainly our purpose of life is happiness ans we try to get it in different ways. The idea of happiness can be different:some people think that money, health and power can make them happy... Maybe real happiness does not exist, there are only happy people.
And one can be happy without having a lot of money or a high social standing. On the contrary; worries for business may destroy inner serenity. So how can we orientate to happiness? In reality Jesus never promised happiness but he indicated the way of beatitudes. In the Gospel the blessed ones have nothing to do with the dimension of human satisfaction, Jesus mentions situations that can be exactly the contrary: poorness, injustices, persecutions, illness... what kind of happiness may they give?
On the contrary the beatitude is the awareness of having God's same feelings, To feel, despite difficulties, that this is the path of a real humanisation. Blessed are the merciful, the pure in heart, the peacemakers, those who do not show themselves off. They share the others' daily life enhancing each person's dignity in the spirit of solidarity that makes all of us brothers and sisters. But we can reflect also about another question: we often think about happiness in a future perspective: it is something that could happen in the future. We wait for a change, or for a stroke of luck... but always after.
Christians too live in a future perspective: it is the eschatological dimension, the accomplishment of all our aspiration to good in God. The writer Oscar Wilde, famous for his aphorisms, affirmed that "happiness is not having what you wish but desiring what you have". We must live in plenitude the life that has been given to us by realising the evangelic beatitude that Jesus too followed. It is the source of satisfactions that underlines each one's unicity accepting serenely what life gives us.
If we think that happiness means to have no problems and only enjoyment we will never attain it because there will always be something impeaching us to attain it. We follow our path thanking God every morning for the gift of life. In the desert there are some oasis and there is also one in the profound of our soul. For example the contemplation of the creation may help us to live a "natural beatitude" that fills our heart with joy, We must not forget that we are a part of God's creation. It may be the home of happiness if we live in the evangelic joy.
Happy New Year, full of happiness!