Year 135 - January-February 2023
An open page even after marriage
Monseigneur Giampaolo Dianin, bishop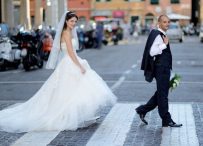 For a Christian couple the first years of marriage are important also in the Christian perspective of married life. The celebration of this sacrament is a gift and a grain to grow; the spouses are not only the ministers of the sacrament but also of their married life. Through the invocation of the Spirit and with their consent they are spouses in our Lord and they are called to live as God's spouses.
This task concerns their personal itinerary of faith, their different manner to live faith and their consciousness when receiving the sacrament. For many Christian couples the celebration of marriage is not the beginning of a new Christian life but it is the outcome of the preparation for marriage for fiancés. Only when they have a baby they will come knocking at the door of the community to ask for the baptism... (continue)
---
Dear reader, thank you for choosing this article.
Want to read more? Ask for a free copy of "The Saint of Miracles"