Year 134 - October 2022
The future of the Church
Fr. Livio Tonello, director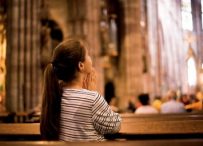 At this time we often think about the future because we fear with regards to the future. So we think about the future of our planet fearing dramatical events like droughts and the impact of climate change that cause deaths and destruction. We think about the future of Ukraine that fears a long war.
We think about the future of our relationships with our family and friends challenged by a virus that seems to be invincible. For some time we have been wondering about the future of the Church. The statistics are not encouraging: some publications (Are we the last Christians? The Church is burning, Closed Churches), underline the incertitude and the worries of the ecclesiastic structures.
We can note in our daily experience: the sharp decline in the numbers of Catholics going to Sunday Mass and of the volunteers and pastoral operators, the weak influence of Catholic thought on the society, the loss of authority of the hierarchy. The pandemic has just accelerated the inexorable erosion of the numbers of worshippers that started many years ago. So we wonder what the future of the Church will be and more generally of Christianity.
Christianity is increasing in the word except in Europe. What can we do? Wishes are not enough. We know that the future is in God's hands and that He will not leave the Ecclesiastic community to its own destiny. But Catholics have to shake themselves. Scandals have damaged the credibility the Church and disqualified it: but all these may help to purify the soul and the heart and to prevent deviances. It is now that we have to begin to write the future of the Church.
Certainly human beings will always ask questions about the meaning of life and its values. The Church, is a great expert in humanity. The consequences of the "exculturation" of Catholicism from the modern culture are immense and they will make it poorer: the Gospel preached and lived over the centuries is always fundamental to support and promote life and the peaceful coexistence of the people.
Christians have taken a strong position on the themes so important for public opinion such as ecology, homophobia, integration... and sometimes their opinion is considered to be one sided and partisan. So the exculturation of Christianity make the modern society poorer by cutting its deep roots. The Gospel is not a narration of the past but of the human path looking deeper into its heritage and opening to the others.
The predictions about the future of the Church are uncertain and wishes are not enough. We believe that we are not a transitional structure because the Church is based on a Word that will not pass by, it could "burn" or "go under" but it will always be open to hope. The last Christians are also the first of God's new people who, after crossing the desert, see the promised land, the only destination of our earthly pilgrimage.