Anna, 67 years old, a native of the province of Como, tells us: "I have been a widow for some years, I used to be a kindergarten teacher: now I am a volunteer with some friends; I have never had children but with my job I had many of them! I always did volunteering with my husband in my parish. By chance I heard about solidarity legacy and I decided to get some information".
So, like that, Anna discovered that solidarity legacy is a special donation that we can synthesise in three words: gratitude, trust, importance. Gratitude for the beneficiary association, trust in its administration and in its staff, importance of the reason for which one decides to leave money or assets after death. Then Anna understood that this is possible for everyone: a little amount of money, goods or real estate, an insurance, can make the difference for the Association. How can you draw up a will?
You can choose to write and to sign it by hand (holographic testament), you can employ a solicitor to write it in the presence of two witnesses or give it to one in a closed envelop (secret testament). Each one of these testaments has the same validity when holding succession proceeding. A testament can be annulled, modified or replaced at any time. Anna continues. "After getting all the technical information I went to a solicitor. I decided to make a legacy in favour of the Universal Association of Saint Anthony.
I have known it for many years, I receive the magazine and Saint Anthony is a friend for me. But beyond that I have chosen it because of it sensitivity and care of people in need. One cannot but divide a piece of bread with the hungry: the Association does even better taking care of children. As I was a teacher I feel as if I am continuing my mission with this little and simple act".
For more information: telephone number: +39 049 8759199 amministrazione@santodeimiracoli.org The solidarity legacy is an act of solidarity not only by giving tangible assets but also a spiritual and moral heritage.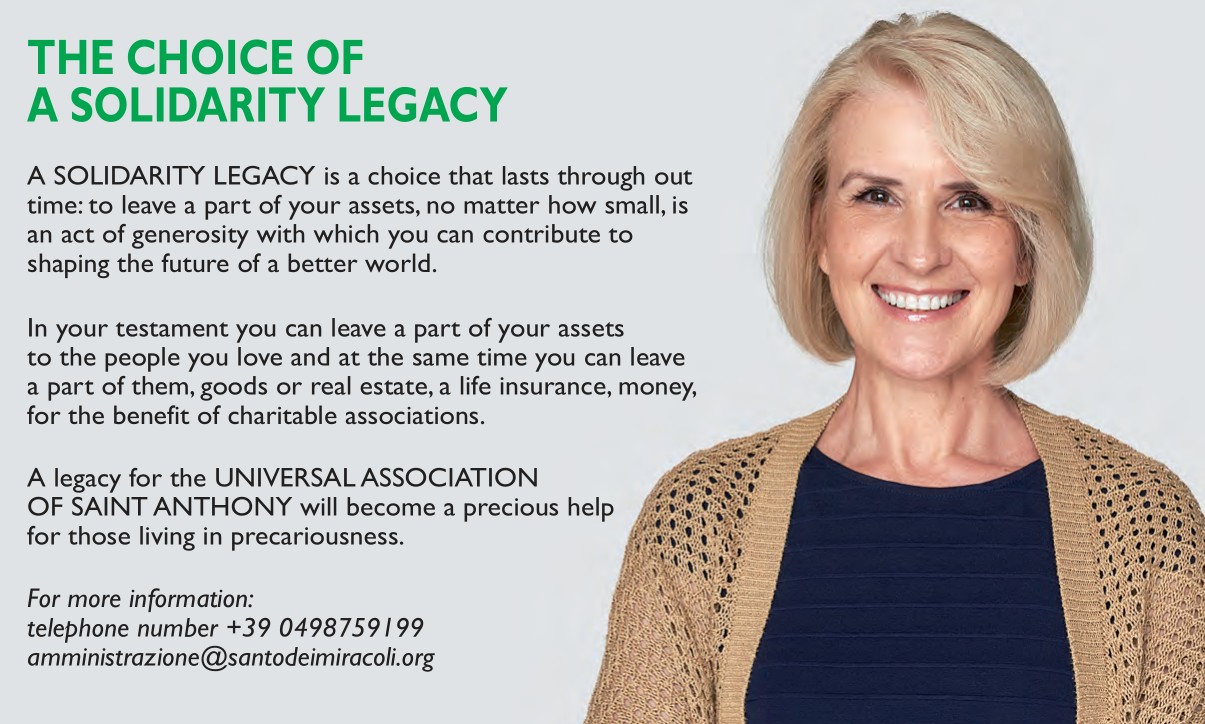 Lodovica Vendemiati